Unlocking the Potential of CapCut Creative Suite: A Deep Dive into Photo Editing Features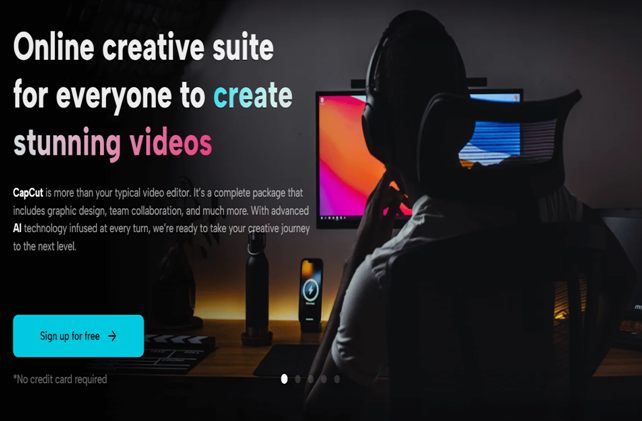 Striking visuals are paramount in the evolving era of content. Whether you're a social media influencer, a small business owner, a marketing professional, or a hobbyist, creating eye-catching images is crucial. This is where the CapCut creative suite, more commonly known for its video editing prowess, offers a hidden gem—powerful photo editing features that can take your images to the next level. In this article, we'll explore the often-overlooked world of CapCut Creative Suite's photo editing capabilities.
CapCut Creative Suite's Approach to Photo Editing
CapCut Creative Suite is celebrated for its all-in-one approach, and its photo editing tools are no exception. When you open CapCut, you can seamlessly transition from video to image editing. Let's delve into some of the key photo editing features that CapCut has to offer:
● Image Enhancement with One-Click Filters
One of the most accessible ways to elevate your photos is by applying one-click filters. CapCut Creative Suite provides an array of filters, each designed to impart a unique style or mood to your images. Whether you want to give your photo a vintage, cinematic, or contemporary look, these filters can instantly transform your visuals.
● Precise Color Adjustments
While one-click filters are convenient, sometimes you need more control over your image's color balance. CapCut Creative Suite offers a range of tools that allow you to adjust brightness, contrast, saturation, and hue with precision. These controls help you fine-tune your images to achieve the desired color scheme.
● Sharpening and Blurring
If your image requires more than just color adjustments, CapCut's sharpening and blurring tools come to the rescue. You can sharpen specific elements to make them pop or apply a gentle blur to create a dreamy effect. These tools enable you to direct the viewer's focus where you want it.
● Background Removal
CapCut Creative Suite's photo editing tools extend to advanced features such as background removal. With this feature, you can effortlessly isolate your subject from the background. This is particularly valuable for creating professional product photos, profile pictures, or images for e-commerce.
● Adding Text and Graphic Elements
CapCut Creative Suite is not just about enhancing existing elements; it also empowers you to add new ones. You can include text, stickers, icons, and other graphic elements in your images. This opens up creative possibilities for designing social media posts, invitations, and marketing materials.
● Creative Cropping and Resizing
Sometimes, the perfect image lies within a larger one. CapCut's creative suite allows you to crop and resize your photos to frame them exactly as you envision. This feature is indispensable for crafting social media profile pictures and cover photos.
● Applying Artistic Effects
Are you looking to transform your photo into a work of art? CapCut offers various artistic effects, such as filters, stickers, and other effects. These effects can turn your ordinary image into a masterpiece.
● Exporting and Sharing Options
Once you've perfected your images, CapCut Creative Suite makes it easy to export and share them. You can choose from a variety of file formats and resolutions to ensure your images are ready for various platforms, from social media to print.

CapCut Creative Suite: Your Go-To Tool
Now that we've explored some of CapCut's photo editing features, let's discuss practical applications for these tools:
● Social Media Marketing
In the realm of social media marketing, striking visuals are crucial for capturing your audience's attention. With CapCut's photo editing features, you can create engaging posts, cover images, and profile pictures that reinforce your brand identity and resonate with your followers. The online video compressor tool offered by CapCut helps you take control of your file size. So, don't forget to incorporate it into your creative journey.
● Product Promotion
For e-commerce businesses, high-quality product images are non-negotiable. CapCut's background removal and color adjustment tools make it a valuable resource for creating product listings that convert viewers into customers.
● Personal Branding
In an era where personal branding is essential, CapCut's creative suite empowers individuals to create stunning headshots and cover photos for their social media profiles. You can present yourself or your brand in the best light, making a memorable first impression.
● Event Invitations
Planning an event? CapCut's text and graphic elements allow you to craft eye-catching invitations, whether it's for a wedding, birthday party, or corporate gathering. You can add text, icons, and images to design an invitation that matches the theme of your event.
● Artistic Expression
For artists and creative individuals, CapCut's artistic effects provide a canvas for experimentation. Transform your photos into unique works of art, experimenting with different styles and filters to bring your vision to life.
● Personal Photo Albums
Whether you're creating digital or physical photo albums, CapCut's collage feature can help you arrange your memories in a visually appealing way. Share your cherished moments with family and friends in a format that's both beautiful and meaningful.
● Blog and Website Imagery
Bloggers and website owners can enhance their content with captivating visuals. Whether you're adding images to your blog posts or creating banners for your website, CapCut's editing tools help you maintain a consistent and professional aesthetic.
Read Also: Revolutionizing Learning with Technology
Conclusion: A Versatile Photo Editing Solution
While CapCut Creative Suite is celebrated for its video editing capabilities, it's important to recognize its versatility as a photo editing tool. Whether you're a content creator, marketer, or enthusiast, CapCut provides an all-in-one solution for enhancing your images and visual content.
With its comprehensive set of photo editing features, CapCut empowers you to unlock your creativity, tell your story, and present your brand or personal identity in the best possible light. So, the next time you open CapCut Creative Suite, don't forget to explore its photo editing capabilities and discover the endless possibilities for enhancing your images. With CapCut's creative suite, you have the creative power at your fingertips, whether you're creating content for personal enjoyment or professional success.